Final Preparations are going ahead



Everything seems to be largely in place for tommorrow night
apart from a few technical and logistical things that will be
dealt with on the day.

There is the late addition of

Andy 'Attic'


and

DJ Dreg

which adds to

Nick 'Switch'


and

Dr. Jon Crayz Fish

on the DJ front



Steve Spon

will be overseeing the nights entertainment
and will be making occassional announcements.

The first Band on Stage will be

Dead Girl on the Pavement

(9.15pm)
Followed by

Mojag

and

Thee Dirty Stooges


The

UK Decay at Luton Carnival

video will be shown around 12.15 AM


Mojag

will also be playing their 'Sheol' video and projections
of over 150 Mojag-inspired images.

Invitations have been sent out to other former members of

UK Decay


as well as scores of

'Faces' of the Class of 1979-1989 re-union!


So lets make this a great night to remmember!!

Here is a map of Luton town Centre
The train station (Luton Central) is slightly above the middle/top
and is ten minutes walk.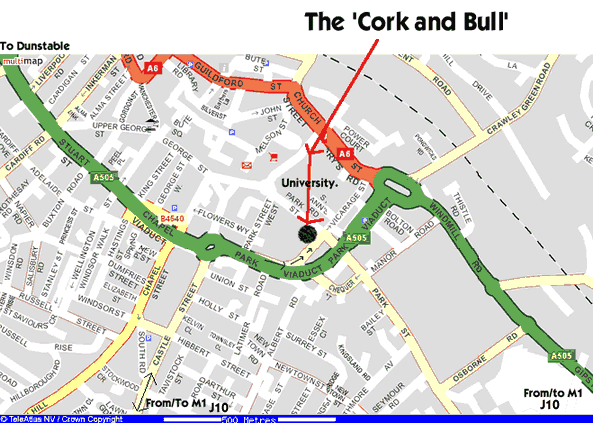 The Cork and Bull is situated in the south of Luton town centre,
down Park street by the crossroads with the traffic lights

If you are coming into town by car etc. best bet is to leave the
MI via junction 10 and take the J10 extension to the 1st roundabout.
On the first roundabout (signposted right towards Harpenden)

Ignore the road ahead directions for central Luton & Luton Airport

Instead turn Left past Golf course & Stockwood park..down big hill..
continue past 1 set of traffic lights until you get to a roundabout
with a 'Staples' wharehouse...Turn right..then 2nd left (about 150
metres from roundabout) that is Cumberland street.
There is only a small carpark here so you may have to park
nearby!

?Usefull phone numbers
Cork and Bull 01582 729586
UKDKcom info line 07904 211950

One more thing, there is a fire limit of 250 people in this venue.
To avoid dissapointment if you are planning to travel a distance
to get here, please email werewolf@ukdecay.co.uk
or use the infoline above to reserve entry tickets.

Doors open at 9pm it might be an idea for all to get there early!!

Let the Party Roll !!

'A night for Celebration
A night to Unwind....."

See you there
W.W.




_________________

Visit The new UK Decay Communities