Leigh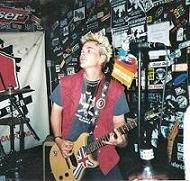 Joined: 12 Aug 2007
Posts: 3
Location: California USA
Posted: Sun Aug 12, 2007 5:16 pm

Post subject: Ex-Pat misses Pork Pies

---

Well this is all very surreal, but I'm glad I stumbled upon this place and ooh how the memories all come flooding back.
Dunno if anyone would remember me, I'm Leigh Eaton regular of the Blockers and other unsavoury establishments from about 1982-88, bass player for numerous Luton garage bands and one time member of the RattleSnakes. Now that was very wierd to see my picture in their gallery.
Wot happened? Well I was a manager for Our Price Records back in the days and they asked me to go up to Glasgow over the winter of 87-88. I absolutely loved Glasgow and when I returned I'd got myself some itchy feet and wanted to get out of Luton. So I sold my house, some of you may remember the infamous New Years Eve party there in '86 thrown by my lodger Paul Jackson He the drummer of Corpalia, I wasn't there I was drinking in Bedford that night, but apparently the whole of the Luton spikey top contingent was, as I was to hear about for months afterwards.
Oh yeah who brought the dog? and who's idea was it to BMX in the living room?
Anyways I sold the house and decided to go to Hollywood to be a Star, this was about the time of the whole Guns'n'Roses explosion, and I thought all that was required was a good haircut, an English accent, and the ability to drink alot of Jack Daniels, god forbid I have any talent or actually practice my guitar! Bodded around in various bands for a while, switched to rythm guitar, was doing very well in a band called the Villains, which oddly contained two other English geezers, and then some band from Seattle showed up and the Hollywood music scene imploded overnight. Hung up my axe till about 2000 then met some likeminded guys and had another go till that ended with the usual band in-fighting.
In the mean time I met a girl in the queue for Cathouse three days after I'd gotten off the plane and basically moved in with her that night, our first daughter was born in 1989, real life responsibilities took over and I fell into a job as a construction plumber, which equates to digging ditches, and I'm still doing it today. Our second daughter came along in 1995, and in 2001 after thirteen amazingly happy years my wife suddenly arrived at the conclusion that she'd never loved me and wanted to be single.
So now I have joint custody of the girls and they are absolutely the greatest joy in my life, the eldest turned eighteen last week and is going out on her own now, that's a bizarre feeling especially when I'm on a site like this feeling like I'm still eighteen. I've not been back to the UK since '89 for various reasons and now live with my Girlfriend who is an actress and ironically is in Edinburgh right now performing at the festival.
America is different, not better perse but just different and there are still adjustments I have to make, no pork pies, an orange oily substance that bounces off the floor when dropped that they refer to as Cheddar, no back bacon, no Twiglets, and so on but they do have Pastrami! I live in Orange County which is essentially part of the greater Los Angeles area, and I am very blessed.
For my jollies these days, well I volunteer alot of my time helping people with drug and alcohol problems having recovered from my own, and I finally allowed the inner geek in me to blossom and I build scale models (yes Airfix kits) at a competitive level.
Amazing find this place, already see Bugsy is active around here and I hope I get the opportunity to find some MIA friends.
Cheers
Leigh
_________________
"You don't have to live in Wolverhampton to get down
You can live in Hollywood but it's just another far away town"
dahei
Druid





Joined: 09 Dec 2004
Posts: 37
Location: 3,500 miles away
Posted: Sat Sep 22, 2007 12:37 am

Post subject:

---

construction plumber !!!!
i hope you're union bro .lol .
[over here in chi town if you mean sewer work and or mains hook ups, you're LIUNA everything else ... plumbers ]
you're right leigh america's different .