JUNE 03rd 2005
UK DK TODAY TWO :::: NEWSLETTER 2

NOW AVAILABLE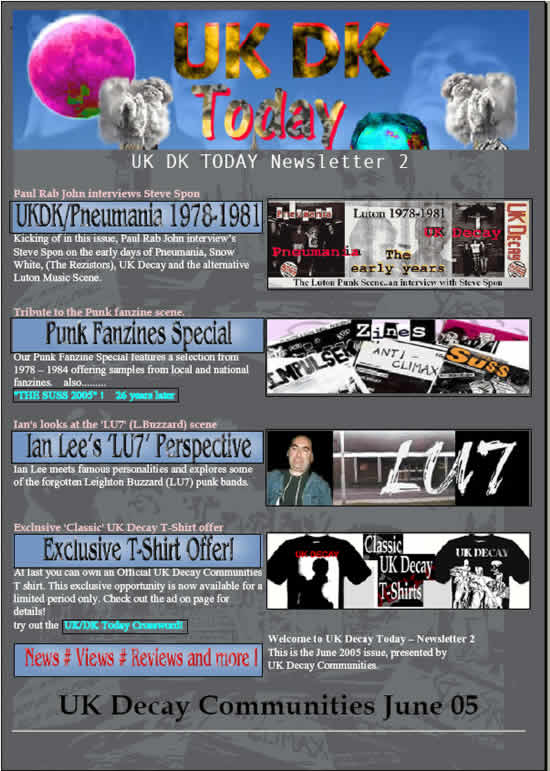 UK Decay Communities presents "UK DK Today 2" June 2005




Our Bi-annual newsletter is now available!



Ram-packed full of images and unique content, this 'Newsletter' is really a collector's magazine!
Presented in a slick 'PDF' format so it's convenient to print, this 54 page edition explores the life
and times of the Luton and Home Counties area of the UK and it's 'Punk' and 'Alternative' music
scene's of the 1970's and 80's.

There is an interview with Steve Spon by Paul Rab John. In it, the early years of the Luton and
area Punk scene are explored. A unique look at 'Sno-White', 'Pneumania' and the 'Rezistors'
and Spon's exploits preceding the 'UKDK' days. Some quite 'eye-opening' events to be found
here!
Ian Lee delves into his meticulous memories and photo archives to bring us tales of chance
meetings with the famous. Ian also re tells the legends of the Forgotten Bands from Leighton
Buzzard.
This Issue hosts a 25-page Fanzine special. Featuring a review of Punk/DIY culture from the
late 70's and early 80's containing interviews with UK Decay and information on the UK Punk
scene. Included are sample pages from many of the featured Zine's. Some have only been
discovered recently making this news letter a unique archive of the early 80s Luton and UK
punk scene. To round this of, Steve Spon has donned his 'Fanzine head' again to mock-up
a front cover and a comment for a 2005 issue of 'The Suss'!

There is a round up of the latest UK Decay Community News, and more links and reviews of
some of our member's projects. There is even a Crossword Puzzle that will test your
knowledge of those days!

Finally, at last you can own an Official UK Decay Communities T Shirt. This exclusive
opportunity is now available for a limited period only. News of it can be found in the
newsletter.



To DOWNLOAD


To download this PDF you must be 'Signed-In' as a member.
Once 'signed-in'
Click Here

or Head to the Members Forum and the relevant post is at the top of the list.

Membership is free and will only take a couple of minutes to complete
You only need an email address and to think up a 'username' and
'password', we promise you wont be 'signing your life away'!
Interested?
Register for membership now!
If you have problems signing up or any comments please email here:-
contact@ukdecay.co.uk



Enjoy!






Werewolf
_________________

Visit The new UK Decay Communities