UK DK 'Hero's' 1982 Studio Session pics + 'new' advert scans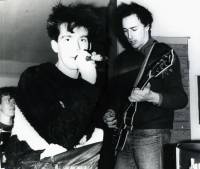 Click here for more & larger views

A batch of photo's of UK Decay has recently surfaced of the bands 1982
Hero's recording studio sessions.
Starting of with 5 classic shots previously unseen of the guys getting down
to their intensive preperation for the recording of the 'Rising from the Dread'
EP.
The shots were comissioned by the late Keith Warren, part owner of the
Luton studio and the actual photo's were taken were taken by 'Video-Head'.

'UK/DK' hired out Hero's for the purpose of demo-ing the forthcoming
'Dread EP' which was later recorded at Southern by John Loder.
Many will remember the late 'Geronimo Jeff' who engineered these
sessions and it is such a shame the whereabouts of the mastertapes
are not known or even worse lost for good!

According to Spon who has a vastly deteriated ancient cassette version
of 'Werewolf' the recording that Jeff engineered was superior to that of
the later released version.

The photo's have been placed in the 'Classic Gallery', there will be more
tp follow......
Whole 'Classic' Slideshow

Also thanks to 'Paul Rab John' yet again for more scans!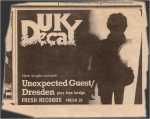 Click for larger view


Click for larger view

The top advert was placed by Fresh Records in the national music papers
to promote the release of the bands 'Unexpected Guest/Dresden' single
in early 1981.
The Tour advert was again placed by 'Fresh' in the rags to advertise
UK/DK's first UK headlining tour, which was in May 1981.
The band had in April returned from the US west Coast tour along with
stand-in bassist 'Creetin Cha-os' from 'Social Unrest'...note sunday may
17th at Bedford Bunyan Center! the Bedford Riot
Play Dead and The Dark were in supporting role and in 18 days they did
15 gigs!
Creetin returned to the USA after this tour and by July, ED joined the
band on Bass.
Many thanks again to Paul Rab John and Video-Head for supplying these.
Flyers Posters Memorialobillia Slideshow




_________________

Visit The new UK Decay Communities