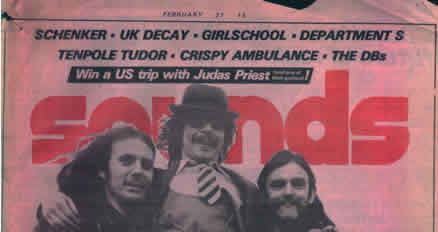 Afterwards they all piled out and smashed out the windows to the banks and the big stores. The punks there really don't care, they'll stop at nothing to bring the system down.
Thankfully this lunatic fringe seems to be concentrated mainly in Germany, far from the pastoral delights of Neasden; I wonder if the Regets have ever thought of going to Berlin?
'From there we went to Rotterdam and Amsterdam, now Holland is ok but we played this place called The Milky Way which is infamous for selling its fifteen varieties of dope over the counter and we literally came out to a cloud of dope smoke and spent the night choking through the set. They've got cushions on the floor, the hippies dream, a different world from England and Germany.
Holland is stuck between the two, a passive place where people who can't take either system go because there's no real pressure there. It's so slow. Its got its own punk community but like everything else there its drug orientated.'

Decay have just negotiated the first major whirlpool of their career. The loss of bassman Segovia.
'The problem basically was we went full time, and Segovia didn't want to take the band any further. He's got a reasonable job and a pleasant girlfriend,' Abbo makes it sound like a disease,' and he couldn't really see his future with us or the band.
He liked playing the music on a small level but was reluctant to make it full time. It wasn't unexpected, we talked about it for some six months or so and he left on very amicable terms. He didn't want to hold us back.'
Now I liked Segovia, he had many endearing traits like after a few pints he'd attempt to engage you in conversation not an inch and a half away from the old olfactory organs. Such encounters would inevitably leave you well damp with spittle. He was a fine musician too.
'We had some trouble finding a replacement. Bassplayers aren't that uncommon but they have a tendency to be incompatible. We wanted someone local, from the same scene as us. In the end we decided to go for a personality rather than a bassplayer, we could always teach'em to play.'


The personality turned out to be Lol, a young lady of striking appearance – destined to be a very high entry in the Sounds 'Horny bird like' chart, no question – classically trained keyboardist with another Luton band the Statics.

It was a wise choice for not only is she a bloody sight better looking than her predecessor (no offence Seg) but a talented songwriter in her own right.
Only there seems to be some confusion over her current/future role in the band. Lol insists that she hasn't left the Statics and Decay aren't sure if she wants the gig permanent.
'I haven't really left the other band.' Explains the pink haired one, 'I'm in both of them…but I've had a lot of hassle with the other band really. The guitarist is really good…'
Abbo steps in to help clarify things. 'the Statics are a group of people who play in a band and have nothing in common except their pleasant music.'
Once again he makes it sound like a disease
'Ooh, you cunt!' replies Lol sweetly. In fact Lol has only been playing bass for three weeks, having picked it up to join the band. 'I didn't really like it before,' she confesses, 'I'd been playing for a week before we had a warm up gig in Northampton…which was bloody useless, then it was literally into the deep end in Berlin, But I didn't mind, I really hate Luton, it was a good excuse to get out.'
There's been so much to do, I just haven't had a chance to get bored. But there all dirty sods really, they could all do with a good wash. The only problems I've had really has been with Spon's feet.
'That's why he wears Jackboots,' explains Steve Harle seriously, 'to encase the odour. Actually having a new person in the band has really made a lot of difference. It's made us see things differently, especially as she writes in another style to us. She's calmed down our more aggressive side.'
Like the Alien on the Nostromo, UK Decay are changing, evolving into something….different with every killing. They are already a formidable beast. Punk Gothique? Its looking just fine.