About
---
Welcome to the 'The Ultimate UK Decay Web Resource!

The Ultimate Resource
for the Luton area,
UK Decay & the family of bands & tribes that seized the best moments of the early 80's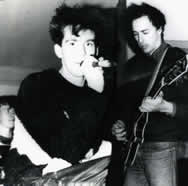 A United Kingdom based website, UK Decay Communities launched spring 2004.
Its original mission was to serve as a meeting place for all those involved in Luton based UK Decay's short but significant early period. It was also to serve as knowledge base for the band and for the Luton area 'punk' and 'alternative' music scene between the seventies and eighties. This was the era of UK Decay with its precursory, descendent and related bands. This period in a geopolitical sense, saw the consolidation of the raw anger of the punk movement of the seventies. And its evolution into the 'New Wave' and 'Post Punk' dominated eighties. UK Decay had disbanded by 1983 but spin-off bands In Excelsis and FURYO continued until 1985. It's fair to say that UK Decay inspired many locally as they did worldwide, widely cited as an important precursory band to the early 'Goth' subculture.
The website with its popular forums and picture gallery's soon became established as a popular meeting point and resource, rallying many of the veteran ex punks and personalities from the period. In 2005 the UK Decay Communities website hosted a reunion at one of the former popular punk hangouts - 'The Grapevine'. Two annual reunion's later saw the reformed UK Decay once again returning to a Luton stage after an absence of twenty six years.
Since that point in June 2008 at the UK Decay Reunion III, the band have performed at a number of prestigious festivals across the UK and Europe. The matter of the unreleased back catalogue was finally resolved in 2009 with the 'For Madmen Only' and 'Rising from the Dread' finally making it onto CD.
Today the mission of the website has evolved. No-one back in 2004 would have guessed that the UK Decay would once again return. But it did, despite the passing of drummer, the late great Steve Harle R.I.P. With new drummer Ray Philpott, the band are again performing live. They are also writing new material for a future album.

BUY FOR MADMEN ONLY CD
Only £8.99 inc shipping (UK)