How you can help us make a new album?
Yah boo, comrades!
As you'll know we reformed about three years ago and since then have had a great time playing gigs around the UK and across Europe. It's been amazing seeing so may people who we shared our youth with again - and meeting new friends and fans.
So what do we do from here? We write another album that's what, our first for 30 years and we need your help to get it recorded. We've already got the songs written and some of you would have already heard three of them played live at the end of the year - it's us, but not a retread. These songs are relevant to the times; powerful, political and with our own dark twist.
We're going to release it ourselves and are funding half the recording, but need your help to fund the rest and we'd like to ask you to visit this site to learn more WWW.PledgeMusic.com/UKDecay
So what do you get for your pledge?
We'll be sending you free exclusive downloads every week and offering a number of exclusives to all pledgers, including a not-to-be-missed opportunity to purchase an original 1981 vinyl test pressing of For Madmen Only and the chance to sing backing vocals with us at a gig in 2012. Further goodies to be announced soon.
A percentage of the amount raised will also go to the Sophie Lancaster Foundation - www.sophielancasterfoundation.com
Anyway, we hope you enjoy the free live track included with this request and can help us bring out a soundtrack to accompany the UK as it continues its decay.
Cheers, Abbo, Ed, Ray and Spon.
For further information, or to place a 'pledge' on our new album, please visit our Pledge website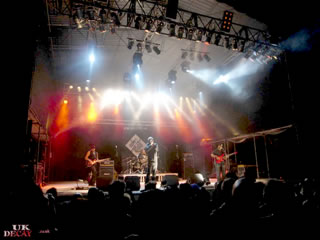 UK Decay in 2011 may not be young 'whipper-snappers' any more, nor perhaps exponents of high goth or punk fashion ware either. Not that they ever were really, they were always more inclined to the matters of the heart, soaring mind and passionate spirit. But the reformed UK Decay with new drummer Ray Phillpott can still pack a punch at the live concerts.
It is now December 2011 as I write, since the first show with the new line up back in
June 2008, UK Decay have performed fifteen concerts across UK and Europe.
Festival appearances include the Rebellion Punk Festival in Blackpool (twice 2009 - 2010),
WGT in Leipzig, Drop Dead Festival in Lisbon, DV8 in York, Bats over Milan,
Road to Ruin in Rome and the Moonlight Festival in Rimini.
Mini tours include Germany (Berlin, Hamburg and Hannover) and Italy (Milan, Bologna
and Rome), whilst two of the gigs UK Decay have played were in their home town
of Luton. A further appearance included the Sumo in Leicester in late 2009.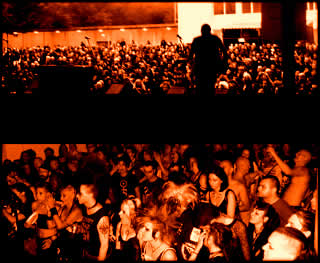 In 2009 the long awaited re-release of most of the bands back-catalogue saw the light of day, in the form of an extended re-issue of the album ;'For Madmen Only'. As well as containing the complete original 1981 vinyl version of 'FMMO', this release also included the complete 1982 'Rising from the Dread' EP, both 'For My Country' / 'Unwind' from 1980 and 'Barbarians' from 1993
For the last handful of shows, UK Decay have been introducing some brand new songs to add to their older repertoire of 'DK Classics' They have been writing this new material for a planned album scheduled for release later in 2012.
It is hoped that to coincide with the planned release, they will tour the UK, Europe and possibly the US. The band with their own record company 'UK Decay Records', would like to raise the capital needed to record the new album in order to retain full creative control over the project.
So at the end of 2011 and into 2012, UK Decay shall be looking at different ways of making the new album project happen. Strong new ideas are promised for this album, expect the unexpected!